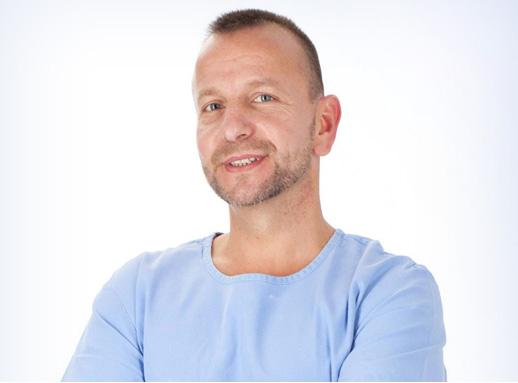 Dr. Miklos Molnár, MD is a board certified surgeon specializing in cosmetic surgeries using cutting edge procedures with a discerning eye for the natural look based on Brazilian training. Dr. Molnár is dedicated to providing his patients with outstanding medical care while offering his professional expertise in all areas of body contouring, facial rejuvenation, and plastic surgery for men. Dr. Molnár is a member of the Hungarian Plastic, Reconstructive and Aesthetic
Plastic Surgery Society (MPHST), the Hungarian Medical Board MOK, the Association of Students of Professor Ivo Pitanguy (www.aexpi.com.br), and the Ivo Pitanguy Euroepan Surgical Association (www.aceip.net).
Dr. Molnár is a graduate of the famous Debrecen University Medical School in Debrecen, Hungary. After earning his medical degree, Dr. Molnár was board certified for general surgery, which he practiced for five years. When Dr. Molnár was accepted to world-renowned plastic and reconstructive Institute Ivo Pitanguy in Rio de Janeiro, Brazil for post-graduate specialization, his passion was ignited for resculpting & reshaping the face and body. At the end of the three-year course, Dr. Molnár returned to Hungary, where he practices his art since 2002.
Dr. Molnár is the National Trainer for Facial Aesthetics at Allergan, makers of Botox™, Juvéderm™, Latisse™, Lap-Band™ and many other cutting edge products in the field of aesthetic and cosmetic surgery. Dr. Molnár has also donated his services to accident survivors unable to afford vital reconstructive and life-changing procedures.
More than 30% of Dr. Molnár's clients are repeat patients seeking his services as they face the ever-changing and natural aging process.
Dr. Molnár is a fluent speaker of English, Portuguese, Italian, Spanish, and German.
Dr. Miklos Molnár, MD

His approach for plastic surgery is
Harmony and Beauty in Body and Mind:

"I feel like I'm an artist who can alter the living human body while giving patients a long-lasting result. I have seen many post surgical patients come out of a depressive state and live a better, richer, fuller and more healthy life."
Miklos Molnar 's CV
Consultant Plastic Surgeon
Reg Nr: Health Ministry: 53477
ANTSZ: 2837/2008/1/5
University Degree: Medical University of Debrecen,
Hungary in 1994


Click here for degree of Dr Miklos Molnar
Additional courses:

Dr. Molnar got his specialization at world famous and unique Specialization Course on Plastic Surgery by Professor Ivo Pitanguy in Rio de Janeiro, Brasil. He studied and work 3 years with Ivo Pitanguy. He is a worldwide reference in the specialty, he is the founder of modern plastic and reconstructive surgery.
Achievements:

over 700 surgeries 
1500 interventions
successfully passed the board examination in 2001


Other work experience:

In 2002 Dr. Molnar returned to Hungary and started to work based on principles of Brazilan knowledge and technique. Since 2002 dr. Molnár work in Hungarian private institutes. In 2004-2008 he was consultant plastic surgeon for Telki Private Hospital. In 2008-2012 was consultant plastic surgeon for DrRose Private Hospital and Budapest Plastic Surgery Institute.
He is the National Trainer for Facial Aesthetics at Allergan Academy.
BeautyHungary is working with dr.Molnar since 2008, we are known for our excellent services, state-of-the-art technology, certified plastic surgeon, and high quality and personalized care before and after surgery.
Some of his specialties:

FACIAL REFRESHMENT AND REJUVENATION:
Liquid face lift, Fillers, Face-neck lift, MACS lift, Eyelid surgery,
BODY CONTOURING and BODY RESHAPING:
Aesthetic correction after child birth and breast feeding, after weight loss,Breast correction, Tummy tuck, Buttock implant/ correction, Body make-over, Bodysculpting by liposuction
PLASTIC SURGERY FOR MEN:
Male Body contouring, Male breast surgery, Muscle implant, Facial aesthetics for men
PLASTIC SURGERY FOR TRANSEXUALS